Dedicated Technical Teams
Our Teams Work
To Bring Your Ideas To Life
Having the right team in place is everything when it comes to getting where you need to go digitally.
Let's Talk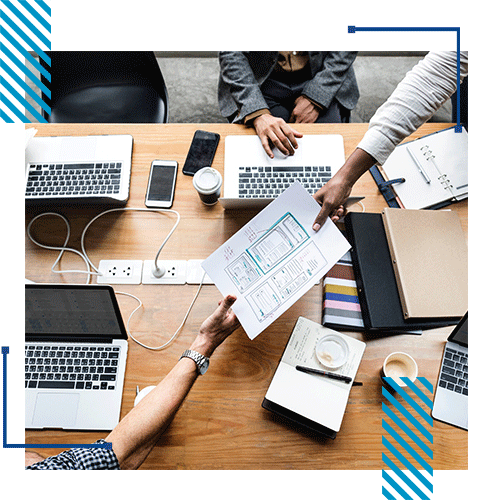 Engagement Models
Direct Interaction with Team
Expand your capabilities with a dedicated team that handles an outsourced part of the project or the project pipeline end-to-end, while having all the deliverables and documentation shared with your team.
Dedicated Project Manager
Get a dedicated team only for the activities you choose and exclude activities that you want to carry out in-house or with another vendor to have the desired level of control over the project.
On-Boarding Process
Team Selection
Requirements analysis
Scope definition
Expertise mapping
Screening & team selection
Working Setup
Tools & infrastructure setup
Process & methodology definition
Knowledge sharing
Team setup
Project Kick-off
Operations review & adjustment
Team size scaling (up/down)
Communication process setup
Project kick-off
Why do you need the Dedicated Team Model?
One of the major advantages of the DT model is cost-efficiency. Plain and simple. It is cheaper to hire a dedicated team.
Task Focus & Adaptability
The biggest advantages of the dedicated team model is the focused approach. You have a team at your disposal with no excessive distractions.
It provides the full control over the selection, motivation, and management of dedicated team members.
Fast-Paced Development Cycle
Speed is another major improvement over the other models. Because of a more hands-on approach from the client and focused development team.
Great things are born in tight collaboration between the client and the development team. Working with the dedicated team you get complete control over the project.
In order to succeed in big-time, the project is required to never stop evolving – add a new feature and refine the existing ones
Let's Discuss Your Project
Our Expertise
Platforms & Frameworks
AWS, Azure, Google Cloud, IBM Watson
Heroku, Mailgun, Angular, React,
Vue Django, RoR, Laravel
Programming Languages
Ruby, Node.js, JavaScript
Python, GoLang
Swift
Databases & Reporting
MongoDB, PostgreSQL, MySQL
MS SQL Server, Oracle, Redshift
Cassandra, Hadoop, NoSQL
Our
Success Stories
It was a pleasure to work with the team. They understand what needs to be done and even give advice on how to make the project better with backend structuring.
Hermen Chan
Influitive
Had a great experience working with the team. When I needed they were able to scale up and scale down rapidly.
Jason Winder
TokyoMate
Amazing Job, came into the project when we were really hurting and was able to very quickly contribute. Would highly recommend!
Thuwab Alsubaie
Shawarmer